Main Menu

User Login






View By Aircraft


Top Ten Aircraft :
(numbers in brackets represent number of images online)
Top Six Manufacturers :
About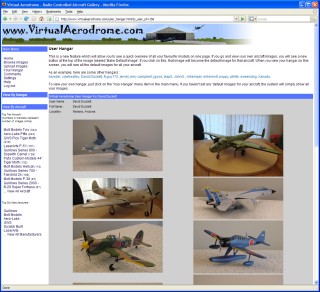 The Virtual Aerodrome is run as a free site to allow aero modellers to have a convenient place to show off their models. Please feel free to sign up and upload images of your own aircraft. Please e-mail virtualaerodrome at jamesgood dot com if you have any questions.
www.VirtualAerodrome.com highly recommend the excellent www.rcgroups.com website as a great source of information on all aspects of the aeromodeling hobby.
If you have any questions, please contact james at virtualaerodrome dot com .
Privacy Statement : Virtual Aerodrome will NEVER sell, or give your personal information to any third party, directly or indirectly. This is a site run by modellers, for modellers, and has no intention of violating your privacy rights. If you are receiving e-mails from us that you no longer wish to receive, please e-mail virtualaerodrome at jamesgood dot com. Thank you.